[ Home ] [ ODGC Random Doubles ] [ The Orangeburg Disc Golf Course ] [ Course Records ] [ 2003 ODGC Membership Application Form ] [ Aces and More ] [ Message Board ] [ Still Waters Farm ] [ History of Disc Golf ] [ ODGC Activities Calendar ] [ ODGC Favorite Links ]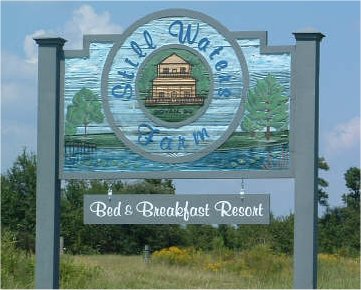 We at Still Waters Farm are looking forward to your visit. Come play one of the finest "Championship" caliber disc golf courses in the region. Open all year for daily play. Nominal "greens fee" accepted to help offset the grounds keeping expenses. The course was designed by Shade Hogg and Joey Johnson in cooperation with Mayor Johnnie Ganus of Govan, SC.
The "Red" (recreational) course plays to 3195 ft. while the "Gold" (Professional) setup measures approximately 10,622 feet in length. The par for the Gold" course is 72. The "front 7" are moderately short holes while the "back 11" come at you from start to finish. Significant winds and gently rolling hills accasionally add flavor to the mix. For example, hole #11 measures 1320 ft (one quarter mile long) with absolutely no earthbound obstacles (trees, shrubs, etc), while #12 measures in at 1000 ft, has a tree line guarding the right side of the fairway and the green but, plays downhill and often downwind. Both are listed as par 5's on the scorecard. The par 3, #9 hole plays 297 ft, downhill across an out of bounds road and is an ace temptation. The course layout consists of four par 5's, ten par 4's, and four par 3's.
Some less experienced players trying their hand (or arm) at the "Pro" setup, may shoot scores over one hundred for one round, while long armed, more experienced disc slingers that also have accuracy in their arsenal can break par. Many players will feel like they do playing traditional golf where bogey on some of the longer holes is considered a good score. It takes getting used to. I'll have some photos available soon.
Directions:
From Orangeburg course: go Hwy 301 South to Bamburg (about 15 minutes). At the traffic light (Hwy 61 intersection) Continue on 301 for one mile, veer right at the fork (the left takes you to Hwy 601 - don't go there); Continue on 301 for about 4.6 more miles. You will pass "Phoenix Company" on the left and right, then the "Denmark Tech College and Voorhees" (green sign) will be coming up-take a right; Go 2.0 miles, take the first paved road to the left (Govan Road). Go 3.2 miles on Govan road, you'll cross a double bridge (very small), go up the hill, Still Waters Farm is on the left. Follow the gravel road, cross the "dam road" to the Clubhouse/snack bar/covered picnic shelter area that is on the far side of the pond/lake.
From Columbia: take Hwy 321 South 50 miles to Denmark. 2 miles South of Denmark turn left on Platt Road (Still Waters Sign). Go 2 miles to Govan Road and turn right. Go 1 ½ miles turn left into entrance. Still Waters Sign at every turn.
From Augusta or Charleston: take Hwy 78 to Denmark then same directions South on Hwy 321.
Follow the gravel road, cross the "dam road" to the Clubhouse/snack bar/covered picnic shelter area that is on the far side of the pond/lake.
Visit this page for additional photos and additional information as well.
http://groups.msn.com/StillWatersFarmDiscGolfCourse
Anyone interested in playing or want more information, contact Shade.
thog9999@hotmail.com (843)327-8728

Tim "Shade" Hogg President - Orangeburg Disc Golf Club